"Well-made things last. I believe longevity is one of the simpler forms of sustainability that we can hope to achieve as contemporary designers."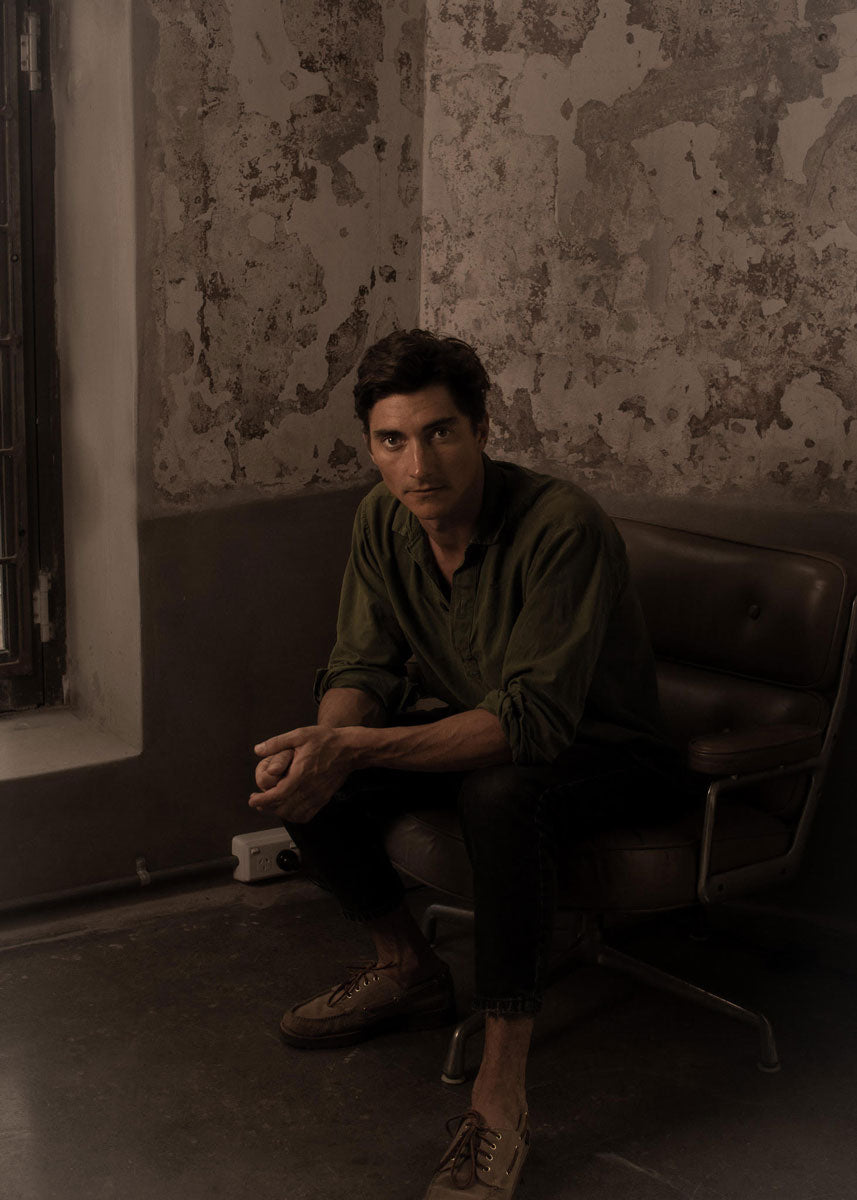 Background
I am a designer of furniture, lighting, accessories and components in metal, stone and glass. Although I have travelled extensively and lived overseas, Sydney is the place to which I habitually retreat, and where I feel most unfettered creatively.
Studio Henry Wilson was established in inner Sydney in 2012.
My work is characterised in part by utilitarianism, giving precedence to form and function. However, the embodiment of feeling is also important to me; I'm interested in the imperfect beauty that comes from objects made by hand, and in the creation of pieces that retain a sense of individual charm while not compromising the robust framework required for manufacture. Further, it matters that the work endures; well-made things last, and I see longevity as one of the simpler forms of sustainability we can hope to achieve as contemporary designers.
This has led me to foster long-term collaborations with select, like-minded suppliers and manufacturers, including artisanal European stonemasons, and a local foundry that manufactures elements cast in bronze and aluminium.

Predominantly, what draws and influences me is the Australian landscape – in its multiformity and in the singular qualities of its light – with an emphasis on resolution of forces to add energy. Nothing remains perfect in Australian conditions, and I believe weathering is to be accepted and valued even up to the extent of effecting subtle imperfections during manufacture.
It has long appealed to me, too, that Australia affords a freedom to pursue ideas without the burden of an indurate historical aesthetic, even as I acknowledge and appreciate the sophistication imparted by centuries of technological development, design practice and philosophy in Europe and throughout the industrialised world.
Each of my designs begins with concepts and forms gleaned from constant excursions into art, nature, andheavy industry, documented in photographs, notes and drawings. The resulting sketches and simple cardboard or plasticine models evolve through use of 3D software and printing technology. Sometimes ideas lie dormant at length before finding application – directions shift – a design for a lamp meets an obstacle, for example, and a hook, bookend or chair eventuates.
I find that remaining open to this dynamic and following the particular energy of a project reliably bears fruit, likewise editing and occasionally discarding concepts and designs as they evolve.
Materials often speak for themselves, evoking an intuitive response connected to their physical properties and design heritage. The anthropology of design obviously has a linear narrative; contemporary designs and production methods stem from those that have come before. But the act of design is a fluid exchange between inspirations, materials and production.
My work is available on this website, at my Sydney studio, and in design showrooms around the world.

QUALIFICATIONS
I studied initially at the Australian National University's School of Art, where I specialised in woodwork, and graduated with first class honours. As part of this degree, I participated in an exchange program at Rhode Island School of Design; subsequently, I gained a master's degree from Design Academy Eindhoven in the Netherlands.
EXHIBITIONS & PERMANENT COLLECTIONS
Museum of Applied Arts and Sciences, Sydney, Australia
Art Gallery of Western Australia, Perth, Australia
Sempering' XXI Triennale, MUDEC, 2016, Milan, Italy 
Stockists
Australia
New Zealand
Simon James (Showroom)
47 Normanby Road
Mt Eden, Auckland
+64 9 377 5556
info@simonjames.co.nz
simonjames.co.nz
usa
Radnor (Showroom)
180 East 88th Street
New York, NY 10128
917-765-3533 
Sales@radnor.co
radnor.co
Stahl + Band
2308 Abbot Kinney Boulevard
Venice, CA 90291
424-228-4134
info@stahlandband.com
stahlandband.com
Galerie Phillia
455 West 19th Street
New York, NY 10011
+1 347 746 9928
contact@galerie-philia.com
galerie-philia.com

Emerson Bailey
1787 South Broadway 
Denver, CO 80210
720-291-0707‬
info@emersonbailey.com 
emersonbailey.com

The 1818 Collective
43 Madison Street
Sag Harbor, NY 11963
631-260-1819
hello@the1818collective.com
the1818collective.com
Anyon Atelier
3384 Sacramento Street
San Francisco, CA 94118
415-829-2758
atelier@anyondesign.com
anyondesign.com
Spartan Shop
1210 SE Grand Ave. 
Portland, Oregon 97214
503-360-7922
hello@spartan-shop.com
spartan-shop.com

Gestalt Haus
614 Warren St,
Hudson, NY, 12534
+1 917 971 6615
info@gestalt-haus.com
gestalt-haus.com

canada
Provide Design Gallery
1636 West 2nd Ave. #101
Vancouver, BC  Canada V6J 1H4
604-632-0095
info@providehome.com
providehome.com
 Japan
合同会社 Long Forme
〒151-0063, 2−6−2 Tomigaya
Shibuya, Tokyo, Yoyogi Gardens, Office 401
+81 03 6206 0468
hi@longforme.com

Europe
Rue Verte
COPENHAGEN
Ny Østergade 11
1101 København DK
+45 3312 5555
rueverte.shop
St. Vincents
Kleine Markt 13, Antwerp
+32 (0) 492 314 159
hello@stvincents.co
stvincents.co
Online
www.studiohenrywilson.com